Social Purpose: Planned Builds Bears for Children; Margaret Bicz helps clean up D.C.
Planned Companies Participates in Build-A-Bear Workshop at Q1 Town Hall
Employees from Planned's corporate office and associates out in the field gathered at Mayfair Farms in West Orange, NJ on Thursday April 18th for our annual Spring Town Hall. Keeping with traditions of the past, activities centered on giving back to the community. For our NJ/PA and Mid-Atlantic regions, associates participated in a Build-A-Bear workshop designed to aid the Child Rescue Coalition. (https://childrescuecoalition.org/)
"Another incredible day in the Planned journey.  We built Rescue Bears for responders to ease the anxiety and fear for children being removed from hostile environments.  Our teams in the northeast and mid-Atlantic came together to make our small difference.  On the West Coast, we proudly Green cleaned an elementary school.  And throughout the day, we realized how fortunate we are at Planned to work together and make a difference together."  said Robert Francis, President & CEO, Planned Companies. 
For Planned, giving back to charity is always at the forefront. Every year holds new opportunities to learn, grow and most importantly, serve. Here at Planned, we make it a priority to not only deliver exceptional customer service, but also find ways to give back to our communities and charities throughout the US.
#FirstServeOthers Benefits the Northern Virginia Ecosystem
Our very own Margaret Bicz, Director of Business Development for our D.C. region, was out helping her local community on Saturday, April 13th. The event, lead in conjunction with the Washington Metropolitan Chapter of the Community Associations Institute (WMCCAI), is designed to clean up the area's watershed, which is fed by a maze of tributaries. Cleaning the debris helps keep water flowing and the eco system working naturally.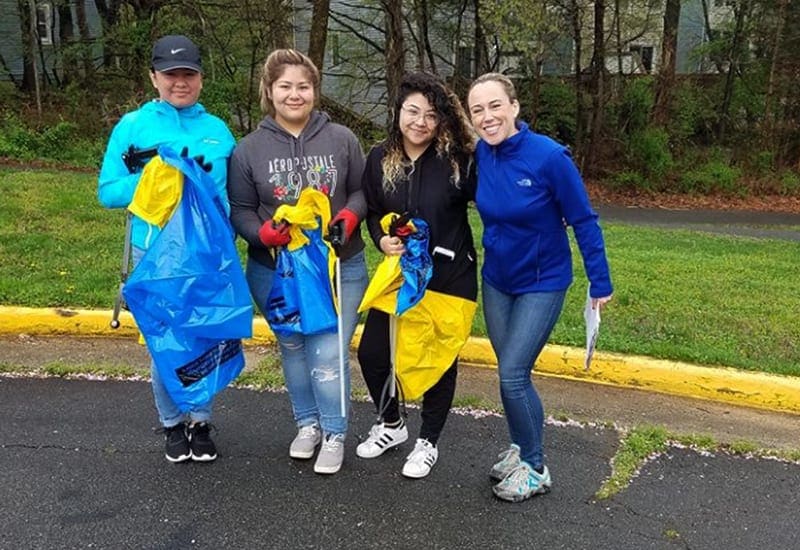 Margaret volunteered herself as site leader for the project. "The plastic bags were a real issue," said Margaret. "They would become encased around logs creating a log-jam. When removed, you could immediately see the water begin flowing again." The project supported the Alice Ferguson Foundation which you can read more on here: (https://fergusonfoundation.org) .
"When we were finished, there was not a single piece of debris along the mile-long creek we cleaned," Margaret added. "This was truly a rewarding experience."